by admin on Aug.22, 2016, under Newspost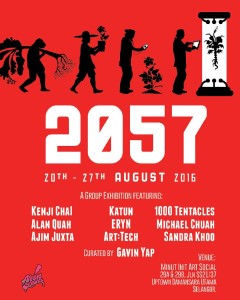 Taking a break from movies for a while and following on from curating the art exhibition "ARE WE LOST – A Search For Malaysian Pop Culture" last year, Gavin has once again gathered a diverse collection of local artists for a new art show; 2057 which runs all this week at Minut Init art Gallery in Damansara Utama,  Petaling Jaya.
The gallery is open daily, 1pm to 8pm  until the 27th August and Gavin will be there to guide visitors through the exhibit.
You can check out a preview of the artwork on display on Gavin's  Instagram account and if you are thinking of popping by, Minut Init's full address is 27, Jalan SS 21/37, Damansara Utama, 47400 Petaling Jaya, Selangor, Malaysia and you can find a map to it's location here.
If you do visit, say "Hi" and let Gavin know you listen to the podcast and feel free to let us know what you think of the show.