Tag: Matt Ferguson
by Mc on Oct.20, 2015, under Podcasts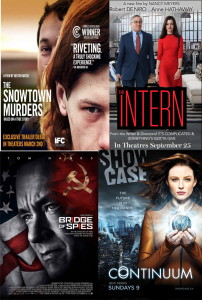 On this week's show we review a very curious set of movies as Gavin investigates The Snowtown Murders and Bridge of Spies while Iain tries out The Intern, and reviews the final series of Continuum and talks a little about his experience with the Star Wars Battlefront Beta
As usual we also run down all the latest news and read through our longest email/comment EVER, but please note that we recorded this podcast BEFORE the new trailer for Star Wars was released so we don't talk about that  (I thought it was awesome by the way).
Gavin's first book  "How I Made My First Movie (Or, A Decade of Favours)" is also now available to buy on-line at MPH book stores by clicking here!
You can find the links for any trailers or cool stuff we talk about in the show notes below:
Show Notes:
Cool Stuff!
Podcast: Play in new window | Download
Subscribe: RSS
Leave a Comment
:Aliens, Back to the Future, Bridge of Spies, Continuum, Matt Ferguson, The Intern, The Snowtown Murders, Tom Whalen
more...
by Mc on Jun.13, 2015, under Podcasts
Back in the same room once again, Gavin and Iain are on the case reviewing Jurassic World and dystopian future western The Young Ones as well as discussing all the latest movie news and a whole heap of new trailers from around the web.
Also this week we want to hear from you on what your favourite 90's movies are that now seem to be mostly forgotten. Let us know on Twitter or Facebook or send your thoughts to podcast@mcyapandfries. com
Here's links to anything we discussed on the show:
Cool stuff!
Podcast: Play in new window | Download
Subscribe: RSS
Leave a Comment
:Alex X Zhang, Burt Macklin, Jurassic World, Kung-Fury, Matt Ferguson, Predator Dark Ages, Troy Little, Young Ones
more...