by Mc on Nov.10, 2015, under Newspost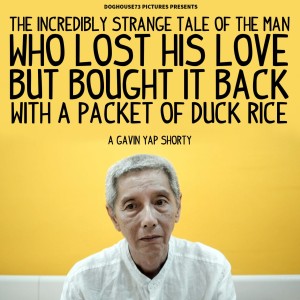 For those of your patiently  awaiting Gavin's Short Film "The Incredibly Strange Tale Of The Man Who Lost His Love But Bought It Back With A Packet Of Duck Rice", it has been invited for competition at the Jogja-NETPAC Asian Film Festival in Indonesia, which unfortunately means that its release on YouTube has now to be pushed back from it's original release date of  13th November.
Gavin and Doghouse 73 Pictures will now release the short film after the festival, which runs from the 1st to 6th of December.
Once the festival is over Gavin's will announce the new release date on the podcast and on his twitter account and on instagram account.
Stay Tuned for more updates as we have them!
:Doghouse 73 Pictures, The Incredibly Strange Tale Of The Man Who Lost His Love But Bought It Back With A Packet Of Duck Rice