by admin on Jan.23, 2014, under Newspost
As Gavin is away in Singapore rehearsing for a play, we've not yet had time to record our first podcast of 2014 , but rest assured, plans are afoot to remedy this.
In the meantime here's a quick update on Gavin's film, yes, GAVIN'S FILM.
As regular listeners should know, last year Gavin directed his first feature film called "Take me To Dinner" (I'm also in the film, albeit in the background briefly in one scene) and it's finally opening in selected GSC cinemas in Malaysia on 13th March 2014!
A darkly comic romantic drama, here's the trailer to whet your appetite
…and look! Incontrovertible PROOF that Gavin directed it! Look at those hands!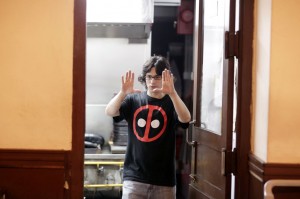 In the run up to the release the production team have also been releasing some (pretty funny) behind the scenes featurettes,I've included the  the first two at the bottom of this post, however there'll be more to come so if you want to see them all then subscribe to the "Take Me to Dinner" page on your social media platform of choice:
Facebook – http://www.facebook.com/TakeMeToDinner
Tumblr – http://takemetodinnermovie.tumblr.com/
Twitter – http://twitter.com/TMTDMovie
Youtube – http://www.youtube.com/channel/UCe1LzRbxo6iffGGHno828hQ
IMDB – http://www.imdb.com/title/tt3225658/
Here's the featurettes, I'll add the others as they are released: