Tag: Spider-man
by Mc on Jan.09, 2019, under Podcasts
What's up, danger? Iain and Gavin's spider-senses are tingling  as they dive DEEP into Spider-man: Into The Spider-verse, one of the best, if not THE best comic book superhero movie OF ALL TIME! Listen to the podcast below or find us on iTunes and everywhere good podcasts can be found!
Keep an eye out for our Aquaman podcast also coming soon as we try and get on to a regular schedule for 2019 before giving up completely again.
Let us know what you thought of our review and the film on twitter at @gavyap & @mcnastyprime as well as at @mcyapandfries and you can also follow us on Instagram at @gavyap77, @McNastyPrime and @mcyapandfries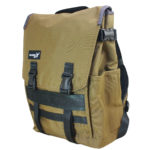 Want to help support the show? Head over to Greenroom136.com, purveyors of urban carry gears and fine bags, using this link and we'll get a % of any purchase you make to help pay for equipment and stuff!
If you've listened to the podcast you know that Gavin and Iain are use greenmrrom 136 bags on the regular and are huge fans so go check em out!
Podcast: Play in new window | Download
Subscribe: RSS
Leave a Comment
:Chris Pine, Hailee Steinfeld, i'M THE GODDAMNED RHINO, Jake Johnson, Kathryn Hahn, Liev Schreiber, Lily Tomlin, Mary Jane Watson, Miles Morales, Natalie Morales, Nicolas Cage, Peter B. Parker, Peter Parker, Shameik Moore, Sony, Spider-man, Spiderman: Into The Spider-verse
more...
by Mc on Jul.28, 2013, under Podcasts
Once again San Diego Comic Con has come and gone leaving behind lots of juicy hints of what's to come in the cinema over the next few years. On this week's show we discuss some of the the most exiting news items that came out of the con, we review The Wolverine and World War Z, and Gavin gives his thoughts on Pacific Rim and the current state of blockbuster cinema.
Gavin's Toy

S

(plural) of the week
San Diego Ccomic Con links
A pair of terrifying trailers for Alfonso Cuarón's Gravity( it's best to watch these in order)
Trailer for Out of the Furnace starring Christian Bale, Casey Affleck, Woody Harrelson, Forest Whitaker, Zoe Saldana, Sam Shepard and Willem Dafoe.
Trailer for 12 years a Slave , another film with a stellar cast; Chiwetel Ejiofor, Michael Fassbender, Brad Pitt, Benedict Cumberbatch, Paul Dano and  Paul Giamatti amongst others
And finally Dennis Farina's Fuck-Fest. RIP
Podcast: Play in new window | Download
Subscribe: RSS
Leave a Comment
:12 Years a Slave, 47 Ronin, Alfonso Cuarón, Alien, Andrew Garfield, Avengers, Gravity, Kick-Ass 2, Loki, Out of the Furnace, Riddick, San Diego Comic Con 2013, SDCC, Sherlock, Spider-man, TMNT, Tom Hiddleston, Vin Diesel
more...