Tag: Vin Diesel
by Mc on Nov.05, 2015, under Podcasts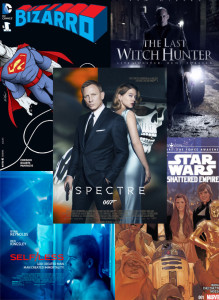 On this week's show we take a look at James Bond's latest cinematic outing in Spectre, Ben Kingsley and Ryan Reynolds becoming one in  Self/Less, and Vin Diesel's one man war on the supernatural in The Last Witch Hunter.
Gavin also takes a look at recent comics Bizarro and Journey to the Force Awakens:Shattered Empire, you get a new "Duck Rice" update and some tales from the set of the upcoming Buku Fixi short film Breaking Point from Doghouse 73 Pictures.
As usual the podcast this week is proudly sponsored by Greenroom136.com, check out their new  OttoBook Travel,  a travel companion for all your travel needs in one convenient wallet that can be  tethered to your bag or waist with a carabinier. Buy it at http://greenroom136.com/shop or retail at pop by jaya one and istore at Publika.
Show Notes:
Cool Stuff!
Podcast: Play in new window | Download
Subscribe: RSS
Leave a Comment
:Bizarro, Comic Reviews, Gustavo Duarte, Heath Corson, James Bond, Jimmy Olsen, Kyle Baker, Self/Less, Spectre, Stan Lee, Star Wars, The Last Witch Hunter, Vin Diesel
more...
by Mc on Jul.28, 2013, under Podcasts
Once again San Diego Comic Con has come and gone leaving behind lots of juicy hints of what's to come in the cinema over the next few years. On this week's show we discuss some of the the most exiting news items that came out of the con, we review The Wolverine and World War Z, and Gavin gives his thoughts on Pacific Rim and the current state of blockbuster cinema.
Gavin's Toy

S

(plural) of the week
San Diego Ccomic Con links
A pair of terrifying trailers for Alfonso Cuarón's Gravity( it's best to watch these in order)
Trailer for Out of the Furnace starring Christian Bale, Casey Affleck, Woody Harrelson, Forest Whitaker, Zoe Saldana, Sam Shepard and Willem Dafoe.
Trailer for 12 years a Slave , another film with a stellar cast; Chiwetel Ejiofor, Michael Fassbender, Brad Pitt, Benedict Cumberbatch, Paul Dano and  Paul Giamatti amongst others
And finally Dennis Farina's Fuck-Fest. RIP
Podcast: Play in new window | Download
Subscribe: RSS
Leave a Comment
:12 Years a Slave, 47 Ronin, Alfonso Cuarón, Alien, Andrew Garfield, Avengers, Gravity, Kick-Ass 2, Loki, Out of the Furnace, Riddick, San Diego Comic Con 2013, SDCC, Sherlock, Spider-man, TMNT, Tom Hiddleston, Vin Diesel
more...