Tag: Fantastic Four
by Mc on Aug.11, 2015, under Podcasts

On this week's McYapandFries movie review podcast we bid farewell to "Rowdy" Roddy Piper review Mission Impossible: Rogue Nation and Iain provides one of the very rare slightly positive reviews of Fantastic Four. Don't forget, all this August we are  giving away two, yes TWO Pocketbook Slim Wallets exclusively made for the show by our sponsors Greenroom136, makers of fine urban carry gear available at http://greenroom136.com. To be in with a chance to win one of these  highly coveted items, listen to the podcast and answer the question asked in the email section and email us at [email protected]! Here's links to anything we discussed on the show:
Cool Stuff!
Podcast: Play in new window | Download
Subscribe: RSS
Leave a Comment
:Fantastic Four, Mission Impossible: Rogue Nation, Rowdy Roddy Piper, silverhawks
more...
by Mc on Feb.03, 2015, under Podcasts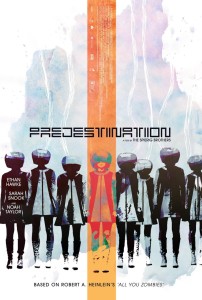 On this week's review-heavy podcast we discuss A Walk Amongst the Tombstones starring Liam Neeson, the much fêted Birdman with Michael Keaton, 1980's crime drama A Most Violent Year with Oscar Isaac and Jessica Chastain, Michael Mann's hacker thriller Blackhat and in a time travelling double bill,the Michael Bay produced, found footage time travel movie  Project Almanac and Predestination starring Ethan Hawke!
As we recorded this before the Super Bowl we don't  cover the super Bowl trailers in this week's show.  Next time baby!
As usual here are the links to all the trailers and cool stuff we talked about on the show
Podcast: Play in new window | Download
Subscribe: RSS
Leave a Comment
:A Most Violent Year, A Walk Amongst the Tombstones, Anarchy, Avengers Age of Ultron, Batman Returns, Birdman, Blackhat, Bread, Chappie, Ethan Hawke, Fantastic Four, Jessica Chastain, Liam Neeson, Michael Bay, Michael Keaton, Michael Mann, Oscar Isaac, Predestination, Project Almanac, Ryan Reynolds, Takashi Miike
more...