Tag: Predestination
by Mc on Feb.03, 2015, under Podcasts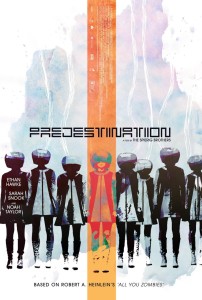 On this week's review-heavy podcast we discuss A Walk Amongst the Tombstones starring Liam Neeson, the much fêted Birdman with Michael Keaton, 1980's crime drama A Most Violent Year with Oscar Isaac and Jessica Chastain, Michael Mann's hacker thriller Blackhat and in a time travelling double bill,the Michael Bay produced, found footage time travel movie  Project Almanac and Predestination starring Ethan Hawke!
As we recorded this before the Super Bowl we don't  cover the super Bowl trailers in this week's show.  Next time baby!
As usual here are the links to all the trailers and cool stuff we talked about on the show
Podcast: Play in new window | Download
Subscribe: RSS
Leave a Comment
:A Most Violent Year, A Walk Amongst the Tombstones, Anarchy, Avengers Age of Ultron, Batman Returns, Birdman, Blackhat, Bread, Chappie, Ethan Hawke, Fantastic Four, Jessica Chastain, Liam Neeson, Michael Bay, Michael Keaton, Michael Mann, Oscar Isaac, Predestination, Project Almanac, Ryan Reynolds, Takashi Miike
more...
by Mc on Oct.04, 2014, under Podcasts
This week we once again joined by Leon Tan of Dragonslate Media and Imaginex Studios for his Hollywood insider perspective as well as an exclusive review of Nicolas Cage's Outcast, which was recently pulled from cinemas just hours before release in China. Iain also reviews Disney's Maleficent and new releases Annabelle  and Dracula Untold. Gavin doesn't have anything to review as he was busy FINALLY catching up on Game of Thrones Heres the show notes:
Podcast: Play in new window | Download
Subscribe: RSS
Leave a Comment
:American Sniper, Annabelle, Blackhat, Clint Eastwood, Dr Strange, Dracula Untold, Ethan Hawke, Genndy Tartakovsky, Inherent Vice, Interstellar, John Wick, Jupiter Rising, Leon Tan, Maleficent, Michael Mann, Popeye, Predestination, The Conjuring
more...