Tag: Zack Snyder
by Mc on Apr.09, 2021, under Podcasts, Spoilercast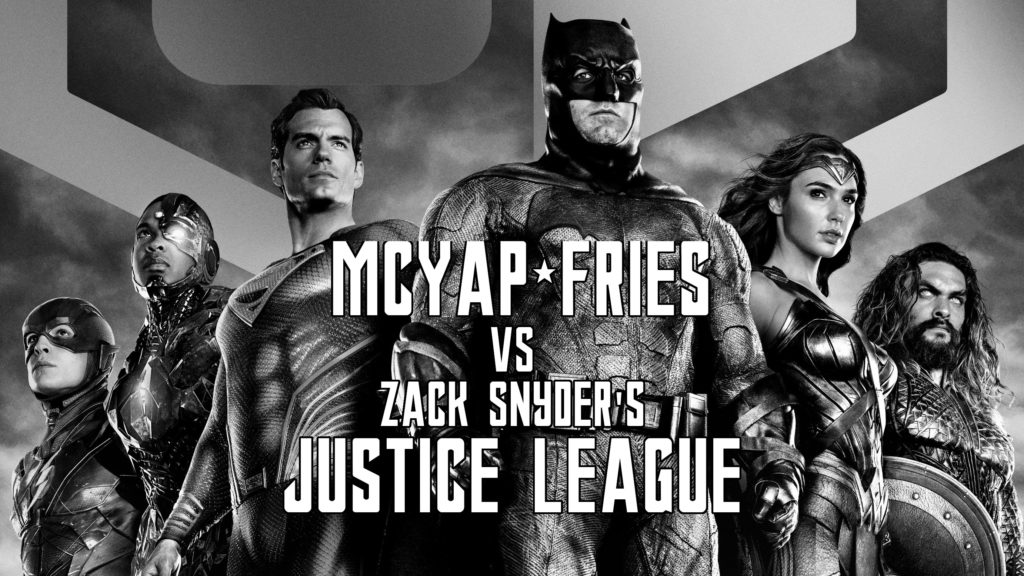 You KNOW we couldn't let the Snyder cut pass without commenting on it, so Gavin and Iain dusted off their microphones and recorded a very special podcast on Zack Snyder's Justice League. Seeing as the film(s) have been out for quite a while we dispense with the usual spoiler warnings and get straight into our thoughts on Zack Snyder's definitive vision for Batman, Superman, Wonder Woman, Aquaman, The Flash and Cyborg in glorious square-o-vision. Click on the buttons below to get eh podcast in your podcast app of choice!
If you are wondering what we thought of the film the first time around you here's the link to our previous Justice League podcast, as well as to the rest of our podcasts on the DCEU.



As always let us know what you thought of the show and the movies we discussed by emailing us at [email protected], by finding us on twitter @mcyapandfries (as well as individually at  @gavyap, & @mcnastyprime) or  by following us on Instagram  @mcyapandfries! (and at @gavyap77 & @McNastyPrime)
If you want to help support our show click on the banner below to head over to our sponsors Greenroom136.com, where we will get a  percentage of any purchases you make there, helping us to pay for the podcast costs!

Podcast: Play in new window | Download
Subscribe: RSS
Leave a Comment
:Amy Adams, Batfleck, Batman, Ben Affleck, Darksied Is, Ezra Miller, Gal Gadot, Henry Cavill, Jason Momoa, Justice League, Lois Lane, MARTHA!, Superman, The Snyder Cut, Zack Snyder, Zack Snyder's Justice League
more...
by Mc on Mar.28, 2016, under Podcasts
Gavin and Iain dedicate a whole episode to Batman V Superman: Dawn of Justice, talking plot , spoilers, their thoughts, complaints, everything. One of them liked it, the other…not so much. And so the stage is set for an epic confrontation…or a polite conversational one. As this is a spoiler-cast we'll announce the winner of the JunkMonkey bag from GreenRoom136.com on the very next podcast! Stay tuned until then!
Podcast: Play in new window | Download
Subscribe: RSS
1 Comment
:Aquaman, Batman, Batman V Superman: Dawn of Justice, DC comics, Jesse Eisenberg, Lex Luthor, Superman, The Flash Cyborg, Wonder Woman, Zack Snyder
more...